In this article, we'll dive into an in-depth comparison of two popular platforms, Google Analytics 4 and HubSpot Analytics, focusing on their strengths and weaknesses.
Content
Brief Description of GA4 and HubSpot
What Do GA4 and HubSpot Have in Common
Differences Between HubSpot Analytics and GA4
HubSpot Analytics or Google Analytics?
Introduction
In today's data-driven business environment, robust analytics tools are key to gaining insights, making the right decisions and optimizing performance. Google Analytics 4 (GA4) and HubSpot are two widely recognized platforms that offer businesses the ability to track, analyze, and leverage data for more efficient growth.
However, it can be challenging to decide which of these two tools to choose for measuring website performance, whether they can be used together, or which data will provide you and your team with the most valuable insights. However, not to worry, we've summarized all the essentials for you in this article.
Brief Description of GA4 and HubSpot
Google Analytics 4 (GA4) is the modern version of the web traffic analysis tool. It brings enhanced user tracking capabilities across devices and platforms by connecting web and mobile apps. The new version emphasizes event tracking and provides a better understanding of user behavior and goals. GA4 can also be used to analyze conversions, build audiences and measure campaign performance.
Google Analytics 4 Interface: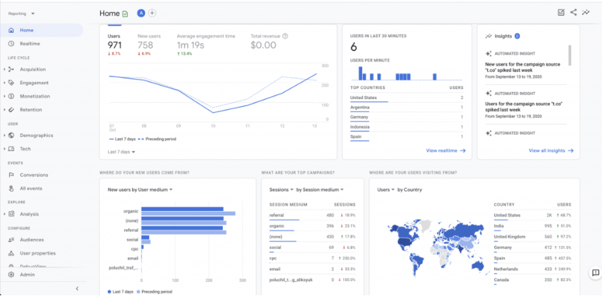 HubSpot Analytics is a tool for tracking the performance of marketing activities and website traffic. It provides detailed information about visitors, their interactions and conversions. It allows you to track key metrics such as number of visits, conversion rates and campaign effectiveness. With integrated reports and graphs, HubSpot Analytics can also track and analyze the results of marketing activities or identify trends in user behavior.
HubSpot Analytics Interface: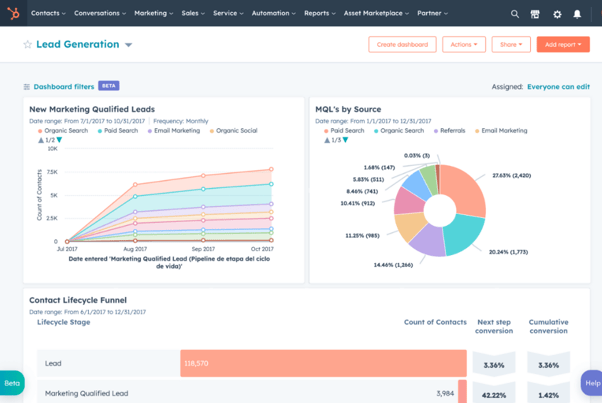 What Do GA4 and HubSpot Have in Common
Both HubSpot Analytics and GA4 have several features in common:
Conversion Tracking
Conversion tracking is an important feature for measuring the success of marketing campaigns and tracking conversion paths. It tracks what actions users take on a website or app that lead to a desired goal, such as making a purchase, filling out a form, or downloading a file.
HubSpot Analytics makes it easy to create and track conversion goals by using conversion forms, measuring the number of clicks on buttons, and tracking conversion events on the site. It provides clear reports on conversions, their success rates and relevant conversion paths. Additionally, if you have your website built directly in the HubSpot platform, you can easily and automatically track every click on CTA buttons.
Conversion measurement in HubSpot: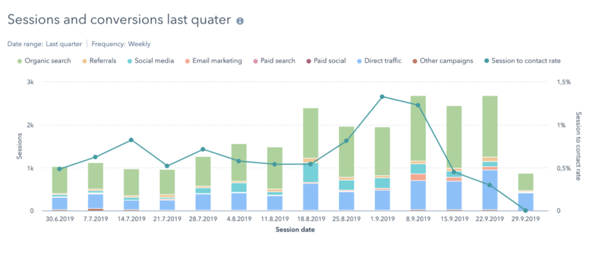 GA4 brings slightly more advanced conversion tracking by allowing you to track every interaction of site visitors within a single session. You can also define and track custom events that are relevant to your site or app. This ensures you measure conversions and goals based on specific actions taken by users. GA4 also provides detailed information on conversion paths and conversion success analysis.
Measuring conversions in GA4: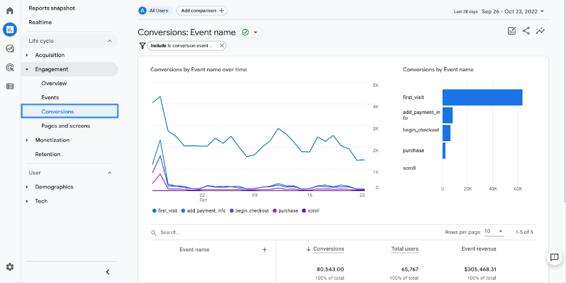 Traffic Sources
HubSpot provides a comprehensive view of website traffic sources and allows you to analyze organic traffic, direct traffic, social media, email marketing, referrals, and other data for both the entire website and individual pages. In addition, HubSpot can also include offline traffic sources, so you can include contacts that were acquired offline in your analysis.
Graphical representation of traffic sources in HubSpot Analytics: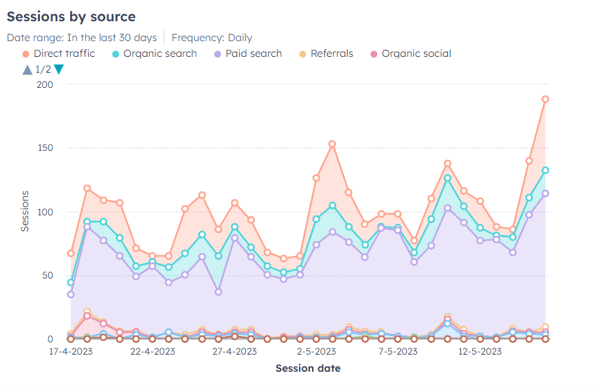 In the Google Analytics tool, you can obtain an overview of traffic sources and mediums, where source indicates the origin of the traffic, such as a search engine or domain. Medium represents the category of the source, encompassing organic search, cost-per-click paid search, and web referral. Therefore, in the GA system, your source/medium may be displayed as google/organic or instagram.com/referral, which is an example of the combination of source and medium components.
Source of visits in GA4: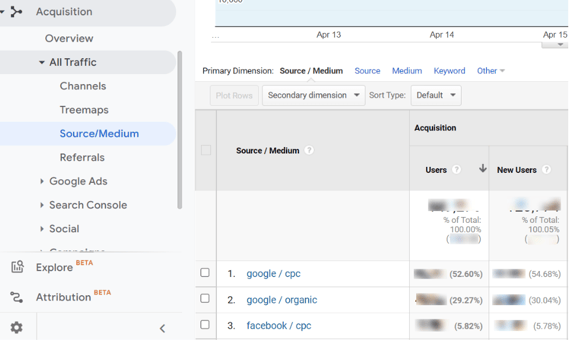 Page Views
With HubSpot, you can track the number of views per page, traffic, conversions, and other relevant metrics related to page views. One of the benefits of HubSpot is the clear visualization of page view data. With the help of customizable charts and reports, you can easily analyze and present all your results. HubSpot Analytics can also be easily integrated with other HubSpot features, such as content management and marketing automation, allowing you to track the performance of specific pages throughout the marketing process.
Page Views in HubSpot Analytics: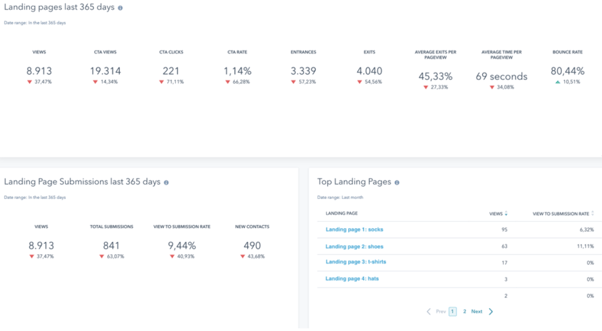 With GA4, you can get accurate information about the number of views per page, traffic, time spent on page and other relevant metrics. In addition, GA4 allows you to create advanced data segmentations so you can analyze page views by various criteria such as country, device, or the aforementioned traffic source.
Page Views in GA4:
Setting Targets
In HubSpot Analytics, you can easily create and set goals to track conversions. You can define goals based on specific actions, such as filling out a form, clicking a CTA button, downloading a file, or completing a specific step in the buying process. This flexibility helps you tailor goals to your specific marketing needs.
Setting goals in HubSpot Analytics:

GA4 also offers the ability to set goals to track conversions and the success of marketing activities. You can define goals based on specific events or pages you want to track. For example, you can set goals to achieve a certain number of page views, increase the average time spent on the site, or complete a purchase.
Traffic Reporting
Traffic reporting is available in both HubSpot and GA4 and provides an overview of your site visitors. HubSpot offers the ability to track traffic trends by month, by year, and compare custom data ranges.
Traffic reporting in HubSpot Analytics: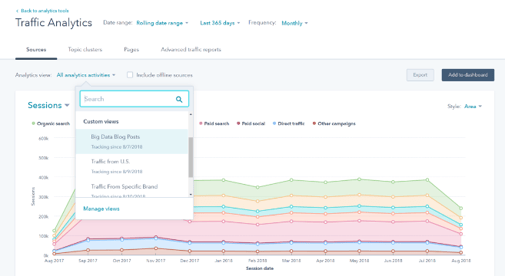 In contrast, GA4 goes deeper into traffic reporting. It allows you to analyze visitor device types and track new and returning visits, offering a more detailed view of user behavior.
Traffic reporting in GA4: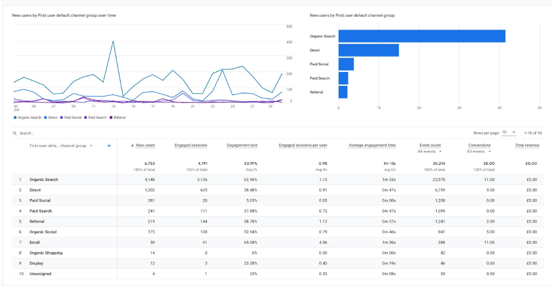 Differences Between HubSpot Analytics and GA4
We will now focus on the specific features and functions that both platforms have and objectively evaluate which is more sophisticated in this area.
1. Interface
HubSpot Analytics provides a user-friendly interface that is comprehensively integrated into the HubSpot CRM marketing and

sales

platform. Its interface is designed specifically for the needs of

inbound marketing

analytics and, along with its customizable dashboards, offers comprehensive reports that simplify complex business data. It can aptly be described as a "one-size-fits-all solution" in business intelligence.


In contrast, GA4 is a bit more complex and may require some time to understand, especially when it comes to its dashboards and filters. As a free tool, it focuses primarily on website analysis.
2. Data integration
The advantage of HubSpot is that it allows you to integrate data from different HubSpot products such as CRM, email marketing, social networks or content management system. This allows you to get a more comprehensive view of your customers.


Google Analytics 4 can pull data from a variety of sources, but it doesn't have the integrated CRM functionality that HubSpot does. It can be linked to Google Ads and other Google tools, but integration with third-party tools requires a more complex setup.
3. Reporting
HubSpot analytics are simple, visually appealing and easy to understand. In addition, it allows you to create custom reports, and when it comes to segmentation, it's directly linked to HubSpot's CRM features, allowing you to segment contacts and companies based on any characteristic in a detailed yet simple way. So for simplicity and straightforward reporting, HubSpot is a better alternative.


GA4 reporting is more comprehensive and precise. It offers a wide range of customisation and segmentation options, which can be used to, for example, customise reports more and to single out specific subsets of data for very detailed analysis. However, more experience is needed to take full advantage. GA4 is better for those who need very detailed reporting.
4. Costs
The analytics features are part of the HubSpot toolkit and are chargeable. The cost varies depending on the

pricing package

you choose.


GA4 is available for free, making it affordable for businesses of all sizes. There is also a premium version of

Google Analytics 360

that offers more features, but for a fee. If price is important to you, Google Analytics 4 is a better value.
5. Customer support
HubSpot offers extensive customer support, including phone support, email, and a knowledge base. When it comes to customer support, HubSpot has the edge over GA4.


HubSpot Analytics or Google Analytics?
The following table shows the strengths of each tool:
| | |
| --- | --- |
| Google Analytics 4 | HubSpot Analytics |
| GA4 excels at providing detailed web traffic analysis. | HubSpot's main advantage lies in its ability to directly present pipeline and revenue impact. It allows you to seamlessly monitor lead generation and conversion funnel performance. |
| Detailed reports on the devices from which visitors come to your website, allowing you to optimize your website for mobile phones, for example. | A content optimization system (COS) that will effortlessly ensure your website suite follows Google's search engine SEO best practices. |
| Google Analytics is ideal for gathering information about the engagement of your website visitors. | HubSpot is suitable for obtaining marketing reports with precise data. |
| Google Analytics allows you to get a general overview of activity on your website over a given period of time or among certain groups of people. | HubSpot makes it much easier to track the behavior of specific users and their conversion paths over time. HubSpot lets you track who provided you with what information and what path they took to reach you. |
| Google Analytics is excellent at gaining deep insights about different audience groups. | The great power of HubSpot lies in the ability to personalize and create your own reports. |
Conclusion
In conclusion, HubSpot can be a strong contender in the field of website analytics. Although Google Analytics 4 is the most popular choice for many businesses, it is certainly not the only option.
HubSpot is set apart by certain distinctive strengths, especially when it comes to customer relationship management and ease of use. Thanks to its sophisticated CRM system, HubSpot Analytics enables primarily B2B companies to track customer interactions in detail, providing useful information that can support marketing and sales initiatives.
Additionally, HubSpot's seamless integration with other marketing and sales tools streamlines the data analysis process and brings valuable information into one easy-to-use hub. This makes it a particularly useful tool for B2B companies looking to consolidate their data and draw meaningful and actionable conclusions from it.
From our perspective, the claim that Google Analytics 4 is the most sensible choice for businesses may already be obsolete. As the business world continues to evolve, it is essential for companies to research and assess a variety of tools to remain competitive. HubSpot Analytics definitely deserves serious consideration in this regard.
If you were interested in our article and would like to learn more about HubSpot, you can also read our article on "Hubspot: Benefits of using it in marketing, sales and customer service." If you're not sure which solution is right for your business, don't hesitate to contact us and we'll be happy to help you make a choice.
FAQ
1. What are the key advantages of Google Analytics 4?
GA4 offers advanced features for tracking web and app visits, including user behavior analysis, conversion measurement, and identification of key segments.
2. What are the main benefits of HubSpot Analytics?
It provides an integrated environment for content management, marketing automation, and tracking customer interactions.
3. What is the difference in available reports between the two platforms?
Google Analytics 4 primarily focuses on reporting web traffic and user behavior, while HubSpot Analytics provides a broader range of reports including campaign, email, social media, and conversion information.
4. How much do GA4 and HubSpot Analytics cost?
GA4 is free; the cost of HubSpot Analytics depends on the plan and the extent of use of other features.
5. How is data privacy handled in GA4 and HubSpot Analytics?
Both platforms offer tools for data anonymization and comply with privacy standards (e.g., GDPR).