In this blog post, we will provide you with a comprehensive introduction to the world of digital marketing. We will delve into the different types of digital marketing, the benefits it provides, and the key elements required for creating a successful campaign.
Content
Key Elements of Digital Marketing Strategy
Building a Digital Marketing Strategy
Introduction
Welcome to the digital age, where everything from shopping to socializing happens online.
As our lives become increasingly interconnected with technology, it is no wonder that digital marketing has emerged as a critical component of any business strategy. By harnessing the power of digital channels like search engines, social media, and email, businesses can effectively reach their target audiences and drive growth.
By the end of this post, you'll have a solid understanding of what digital marketing is, how it works, and how it can help you grow your business.
Digital Marketing Definition

It encompasses various strategies and tactics that are designed to reach and engage with a target audience online.
Digital Marketing Objectives
Digital marketing aims to drive website traffic, increase online sales, and improve brand awareness through the use of various digital channels and tactics. These channels include social media, email, search engines, and virtual reality. We will get to the most used ones later in this post.
You could say that digital marketing's goal is to turn internet users into paying customers, one click at a time.
It is about getting the right message in front of the right people, at the right time, and using all the digital tools at your disposal to make that happen. Whether you are promoting a product, a service, or just trying to build your brand, digital marketing is the way to go in the modern world.
All in all, the main objective is to reach and engage with customers where they spend their time: online.
Key Elements of Digital Marketing Strategy
To be successful in digital marketing, there are several key elements that you need to consider when crafting a digital marketing strategy. These elements include:
1. Target Audience

One of the most critical elements of digital marketing is understanding your target audience. By identifying the demographics, interests, and pain points of your ideal customer, you can create targeted marketing campaigns that resonate with them.
2. Unique Selling Proposition (USP)
Your USP is what sets your business apart from the competition. It is the reason why customers should choose your products or services over others. By defining your USP, you can create marketing messages that highlight your strengths and appeal to your target audience.
3. Conversion Rate Optimization (CRO)

CRO involves improving the user experience on your website or landing pages to increase the percentage of visitors who take action, such as making a purchase or filling out a form. By making it easy for visitors to find what they're looking for and reducing friction in the conversion process, you can boost your conversion rates and generate more leads and sales.
4. Analytics and Measurement

Analytics and measurement are critical for understanding the effectiveness of your digital marketing campaigns. By tracking metrics like website traffic, engagement, and conversions, you can gain insights into what is working and what is not, and make data-driven decisions to optimize your campaigns.
Google Analytics is, for example, a golden standard among all platforms when it comes to measuring your success.
While each of these elements is essential on its own, they work together to create a comprehensive digital marketing strategy that drives results.
By focusing on these key elements, you can create marketing campaigns that resonate with your target audience, differentiate your business from the competition, and generate measurable results.
Types of Digital Marketing
Digital marketing encompasses a wide variety of tactics and techniques, all designed to reach and engage customers online. Some of the most common channels of digital marketing include:
1. Pay-Per-Click (PPC) Advertising
This type of advertising involves placing ads on search engine results pages, or other websites, and only paying when someone clicks on your ad. You can achieve this by setting up a Google Ads account.
When a user searches for something in a search engine like Google, the page that displays the results is known as a search engine results page (SERP):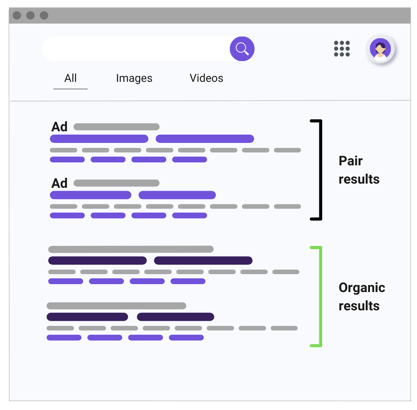 You can also promote your brand on more unique platforms, such as Quora or Reddit.
2. Search Engine Optimization (SEO)

SEO involves improving the ranking of your website and its content on SERPs, making it more likely for people searching for products or services related to your business to find you. Many marketers use platforms like Google Search Console to optimize their websites under best SEO practices.
3. Social Media Marketing (SMM)

Through social media marketing, you can use social media platforms like Facebook, Instagram, LinkedIn, and Twitter to connect with and engage your audience, as well as to promote your products or services.
4. Content Marketing

Content marketing is all about creating and sharing valuable, relevant, and consistent content to attract and retain a clearly defined audience, with the goal of driving profitable customer action. Some examples of such content are blog posts, podcasts, and newsletters.
5. Email Marketing

Email marketing involves sending promotional messages or commercial emails to a group of people via email. The messages may include product or service updates, promotional offers, newsletters, or other marketing content.
Email marketing campaigns are cost-effective and efficient as they can be automated, segmented, and personalized based on the recipient's preferences and behaviors.
6. Influencer Marketing

Partner with social media superstars and industry leaders to give your brand the endorsement it deserves. It is a great strategy to build trust and awareness if paired up with the right influencer. It creates an opportunity for you to speak to a whole new audience who looks up to their influencer.
7. Affiliate Marketing

Affiliate marketing is like having a sales team on commission: you promote other people's products and earn a cut of the profits when someone buys through your unique referral link. In other words, you introduce a buyer to a seller, and if they make a purchase, you profit from it too.
8. Video Marketing

Use the power of video to tell your brand's story and connect with customers on an emotional level. You can post how-to or testimonial videos for your customers to educate them in an engaging way. The options are endless!
No matter which channels you use, the key is to find the tactics that work best for your business. Your message and approach should be tailored to your target audience, rather than just trying them all and seeing what sticks.
After all, you wouldn't try to sell cat food to a dog owner.
The same goes for digital marketing.
Different audiences have different preferences, needs, and pain points, and it is your job to figure out how to speak their language. This means understanding their demographics, interests, and behavior patterns, and using that information to create targeted campaigns that will resonate with them.
Benefits of Digital Marketing
For anyone who has ever spent a significant amount of time on the internet, it is clear that digital marketing is here to stay. When you think about all the ways your business can benefit from online presence and traffic, it is hard not to get excited about this topic.
So why should you dive deeper into the field of digital marketing?
Here are some key areas where digital marketing can help your business grow:
1. Increased Brand Awareness

Digital marketing can help you increase brand awareness by making it easier for people to learn about your business and the products or services you offer.
2. Reach a Wider Audience

With traditional marketing, you are limited to the people who happen to walk by your storefront or see your ad in a magazine. But with digital marketing, you can reach people all over the world with the click of a button.
3. More Cost-Effective

Traditional marketing can be expensive, especially for small businesses. But with digital marketing, you can reach a larger audience at a fraction of the cost. Plus, you can easily track your return on investment (ROI) to see exactly how much you're making from each marketing campaign.
4. Greater Engagement

Digital marketing allows for more interactive and personalized communication with your customers. You can use techniques like email marketing and social media to nurture relationships and encourage customer loyalty.
It is now a two-way communication, so why wouldn't you interact with your customers on Instagram or re-share their positive testimony with a thank you note?
5. Personalized Targeting

We already mentioned that Google Analytics is like every digital marketer's best friend. With this tool, companies can target and segment audiences with specific interests. That helps to create personalized experiences for customers, ultimately leading to increased conversions.
By using targeted content and targeted ads, companies can create an experience tailored to their ideal customer.
6. Real-Time Insights

Unlike traditional marketing, which can take weeks or even months to show results, digital marketing allows you to see the impact of your campaigns in real time.
There are, of course, other tools besides Google Analytics, like Mixpanel, Segment, and Hotjar that help you gather detailed data on customer behavior. Finding the best ones for your needs provides an effective way to maximize ROI and get the most out of every dollar spent on marketing campaigns.
Building a Digital Marketing Strategy
As you now have a better understanding of what digital marketing is and what are its key elements, let's take a closer look at how to implement a strategy step-by-step:
1. Develop a Digital Marketing Plan

Before diving into digital marketing, it is essential to develop a comprehensive plan that outlines your goals, target audience, messaging, and tactics. Your plan should also include a budget, timeline, and metrics for measuring success.
2. Leverage Multiple Channels

It is crucial to leverage multiple digital channels where your target audience spends their time online. This may include a combination of SEO, PPC, social media, email, and content marketing.
3. Create Engaging Content

Creating engaging and valuable content is essential for attracting and retaining your target audience. Your content should be informative, entertaining, and relevant to your target audience's needs and interests.
4. Optimize Your Website for Search Engines

Optimizing your website for search engines is critical for driving organic traffic and generating leads. This may include keyword research, on-page optimization, and link building.
5. Use Data to Make Informed Decisions

As you already know, repetition is the mother of wisdom, so we needed to include the importance of data and analytics one last time:
Monitoring metrics like website traffic, engagement, and conversions will help you optimize your campaigns and achieve better results.
All in all, implementing a digital marketing strategy for your business may seem daunting, but with a solid plan and a focus on the key elements of success, you can create effective campaigns that drive growth and achieve your marketing goals.
Conclusion
Digital marketing can be a great tool in elevating your business to the next level. Its various components, including SEO, PPC, SMM, content marketing, and email marketing, offer endless possibilities for reaching and engaging with your target audience.
One of the most appealing aspects of digital marketing is that it is accessible to businesses of all sizes. Even small businesses can benefit from its cost-effective nature, precise targeting capabilities, and real-time performance tracking.
We hope that this introduction to digital marketing has provided valuable insights that will help your business thrive.
Topics: Marketing