This article offers an introduction to performance marketing, discussing its definition, benefits, what kind of firms it is suitable for, payment models, metrics, and implementation guidance.
Content
What is Performance Marketing?
Key Metrics in Performance Marketing
Performance Marketing Benefits
Who is Performance Marketing Ideal For?
The Different Models in Performance Marketing
Segmentation, Targeting, and Positioning: STP Model
How to Implement Performance Marketing in Your Campaigns
Have you ever poured money into a digital marketing campaign, only to wonder where it all went when the results weren't up to par? You're not alone.
Every marketer wants the same thing from their campaigns: tangible, measurable outcomes. But as we know, not every campaign delivers. Sometimes, you end up dishing out funds without seeing the return on your investment. Frustrating, right?
Imagine a world where you only foot the bill for campaigns that work. That's precisely how it goes with performance marketing.
If you're curious, stick with me, and I'll demystify this approach for you
What is Performance Marketing?
Many marketing methods require you to shell out money upfront, crossing your fingers and hoping for the best.
Performance marketing flips this on its head. Your investment directly aligns with outcomes. It's like ordering a meal and paying only once you've tasted and approved it. With performance marketing, your investment corresponds directly to actual, measurable results.
And what kind of measurable outcomes are we talking about? They range from app installs and ad views to page clicks, social media interactions, and even sales.
This data then guides marketers, helping them tweak strategies, refine keywords, and play around with innovative ad formats.
At its core, performance marketing is a commitment to growth and results.
Key Metrics in Performance Marketing
Diving into performance marketing means immersing yourself in a world driven by numbers and results. But which numbers should you pay attention to?
Before you get overwhelmed with all sorts of metrics that I provided below, remember this rule: Not every metric is relevant to every campaign. Your business has unique needs and goals. It's imperative to align your chosen metrics with these objectives to truly gauge your campaign's effectiveness.
Examples of Metrics That Matter
Ad Views: Or impressions, tell you how many times your target audience viewed your ad.


Page Views: This metric includes every click on a link in an advertisement that then takes the user to the target page. More page views often signify interesting content in the advertisement or attractive offers.


Demo Downloads: For businesses offering software or services, knowing how many potential customers tried a demo can show interest levels.


App Installs: If you've got an app, this one's crucial. It's not just about getting eyes on your app; it's about actual downloads.


Ad Clicks: Different from page clicks, this zeroes in on how many times users were enticed enough by your advertisement to take action.


Social Media Engagement: Likes, shares, comments. Social interactions effectively increase your reach.


Sales: The big one. After all, most businesses are in it for the sales. This metric tells you how many folks went from mere viewers to actual customers.
Each of these metrics offers a snapshot of your campaign's performance. They are insights that can guide your next move and tell you what's working, and more importantly, what's not.
In a nutshell, every decision you make should drive your business forward.
Performance Marketing Benefits
Performance marketing brings a host of advantages to the table. If you've ever felt that traditional marketing methods kept you in the dark, you're in for a pleasant surprise.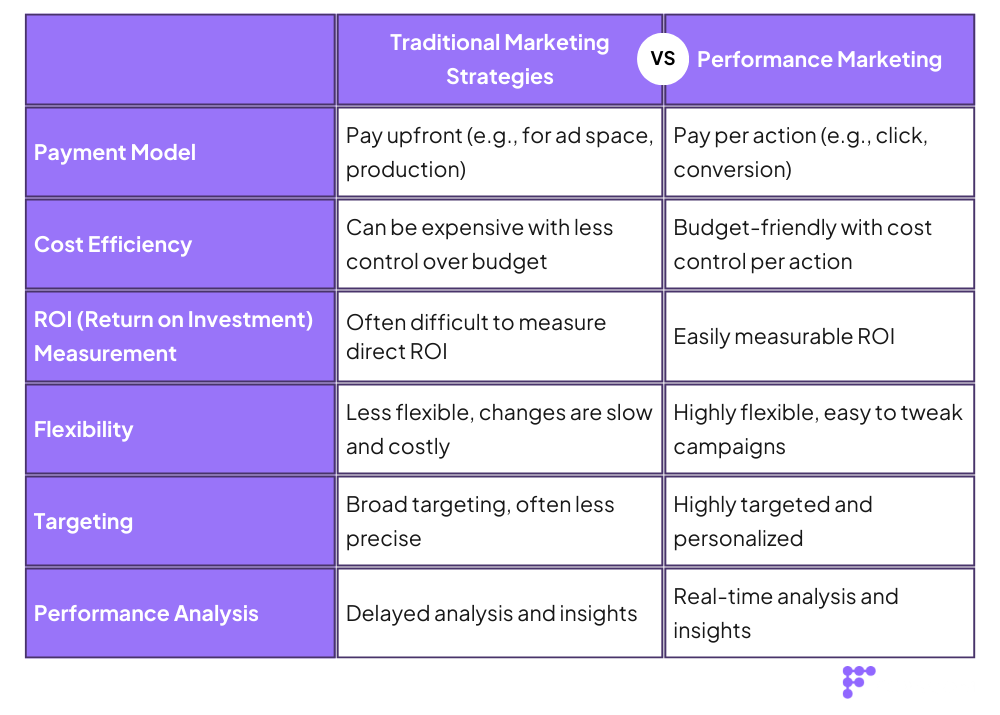 Let's explore in detail why performance marketing may be worth your attention:
Pay for Real Results:
Gone are the days of blindly throwing money at campaigns and hoping for the best. With performance marketing, every penny counts. You're investing in genuine, measurable outcomes. If a strategy doesn't produce, you don't pay. It's as simple as that.


Swift Feedback Loop:
One of the standout benefits is the rapid feedback. You're not waiting months to evaluate a campaign's success. The real-time data lets you see what's working (or not) right off the bat.


Flexibility and Adaptability:
If something isn't going as planned, switch gears. The real-time feedback not only informs you but allows for make adjustments. Whether it's tweaking an ad or changing a keyword, you can pivot easily.


Cost-Efficient:
Performance marketing is ideal for startups and businesses with tight budgets. You're channeling funds into strategies that prove their worth. It ensures a more efficient use of your marketing budget, maximizing return on investment (ROI).


Transparency and Accountability:
Every click, every sale, every interaction gets tracked. This level of transparency means agencies and marketers are more accountable. They're driven to deliver, knowing that payment hinges on performance.



Build Trust with Your Audience

:
Because performance marketing often aligns with user actions (like clicking on an ad or making a purchase), it can lead to more relevant and tailored content for your audience. When users see ads and offers that resonate with their interests, it fosters trust and loyalty.
Who is Performance Marketing Ideal For?
Performance marketing may sound like a great choice to many, but is it the right fit for everyone? Let's dive into who stands to benefit most from this approach and who might want to weigh other options.
Startups & New Businesses:
When you're just starting out, every dollar counts. New ventures, with their limited budgets, can't afford to gamble with uncertain strategies. Performance marketing offers them a safety net, ensuring they pay only for tangible results.
E-commerce Platforms
In the digital marketplace, direct sales and conversions are king. Performance marketing aligns perfectly with e-commerce objectives, turning clicks into customers.
Brands Seeking Quick Wins
If you're on the lookout for rapid results, performance marketing is your go-to. Be it a flash sale, a promotional event, or a new product launch, this approach can deliver immediate feedback and results.
Niche Markets
For businesses targeting specific, narrow markets, performance marketing allows for a tailored approach. By honing in on precise metrics, brands can effectively reach and engage their niche audience.
Businesses with Long Sales Cycles
In many B2B companies, the customer journey is long and complex. However, this does not exclude the effectiveness of performance marketing.

Our agency, FORECOM, has successfully assisted several B2B clients in the area of performance marketing, both in increasing online visibility and in acquiring valuable leads.
Affiliates & Influencers: These individuals or entities thrive on commissions. Performance marketing aligns with their modus operandi, rewarding them for the actual sales or conversions they drive.
When Might Performance Marketing Not Be the Best Fit?
Established Brands Building Long-Term Recognition:
Brands like Nike or Apple, which focus on long-term brand value and recognition, might find performance marketing too narrow. They often aim for larger branding campaigns where immediate ROI isn't the primary goal.
Companies Not Ready to Pivot Quickly:
If a business doesn't have the infrastructure to adjust campaigns rapidly based on feedback, they might struggle. Performance marketing requires agility.
Companies with Complex Supply-Distribution Chains:
Companies that supply goods to supermarkets and primarily focus on supportive brand marketing may often consider performance marketing to be less relevant.

In these cases, the primary performance is often ensured by the supermarket or another distributor, who directly interacts with the end customer.
In summary, while performance marketing has some great merits, it's essential to align it with your business's objectives. Just like with any tool, its effectiveness depends on how and where you use it.
The Different Models in Performance Marketing

Have you decided to give performance marketing a go? Great!

One of the first steps is understanding the different models at play. Each model determines how you'll either charge or pay for specific marketing activities.

Let's get you acquainted:
Cost Per Action (CPA):
In this model, you pay for advertising when a certain action is completed, such as registration or purchase. The goal is to optimize the system so that the CPA is as low as possible, which will help you better track and maximize the return on your marketing investments.
Cost Per Click (CPC):
You're charged each time someone clicks on your advertisement. It's a favorite among businesses aiming to drive traffic.
Cost Per Mille (CPM):
For every thousand views your ad gets, you pay a set amount. It's less about direct action and more about spreading awareness.


Segmentation, Targeting, and Positioning: STP Model
Before you start planning a performance campaign, the STP model - segmentation, targeting, and positioning - is fundamental to your success. What exactly does this trio mean and why is it so important?
Segmentation:
Before you begin with any form of marketing, you should identify the various segments, or groups, of your target market.

Knowing which groups of people make up your market will help you create advertising campaigns that resonate better with your audience.
Targeting:
Once you have defined segments, it's time to focus on those that represent the greatest value for your brand. Targeting allows you to optimize your marketing efforts and target those who are most likely to convert.
Positioning:
After defining your target group, it's important to specify how you want your brand to be perceived in comparison to the competition.

Positioning involves creating a unique selling proposition (USP) and ensuring that your advertising message is clear and distinguishes itself from others.
Having a clearly defined STP strategy before starting performance marketing is essential. Without it, you risk spending your resources unnecessarily on wrongly targeted campaigns.
STP is a big topic in itself, so I recommend delving into it more deeply before you start planning your strategy.
How to Implement Performance Marketing in Your Campaigns
Before you start your campaign, have these tips in mind to make the most out of it:
Setting Clear and Measurable Goals:
Start with clarity. Ask yourself: What's the endgame? Whether you're aiming for more app downloads, a spike in website visits, or a jump in sales, be specific. Clear goals act as your campaign's North Star, guiding every decision you make.


Choosing the Right Performance Marketing Model:
Now that you have your goals, align them with a suitable model. Want to gain visibility? Consider CPM. Hoping to get more sales or sign-ups? CPA could be your ally. The model you choose should resonate with what you want to achieve.


Monitoring Results and Making Adjustments:
Set it, but don't forget it. Keep an eye on how your campaign performs in real-time. If you see something's off or not delivering as expected, pivot.
Maybe it's the ad copy, the platform, or even the time of day you're advertising. Performance marketing's beauty lies in its adaptability. Implement, measure, refine, and repeat. That's the mantra.
Potential Risks and Pitfalls in Performance Marketing
While performance marketing offers a lot of promise, it's not without its hurdles. Being aware of these challenges will equip you to navigate them better.
Let's dive into some common pitfalls:
Ensuring Quality Over Quantity:
It's tempting. Seeing those numbers climb – be it clicks, installs, or views. But remember, not all interactions are equal.

A thousand random clicks won't help if none convert. Focus on targeting the right audience, even if it means fewer interactions. Quality trumps quantity every time.


Avoiding Fraudulent Activities:
The digital landscape has its share of shady corners. There's the risk of bots, click farms, or fake engagements inflating your numbers.

While you might feel like your campaign is performing, these fraudulent activities can drain your budget without delivering genuine results. Always use trusted agencies, platforms, and tools to monitor and combat such risks.


Conclusion
Performance marketing offers a straightforward approach to digital advertising. By focusing on tangible results and transparent costs, businesses can get a clearer return on their investment.
Of course, as with any strategy, there are inherent challenges to watch out for. But with informed decisions, clear goals, and consistent monitoring, these challenges can be navigated.
Performance marketing is a strategy worth considering for many types of businesses. With it, you pay for real outcomes, making your marketing budget work harder and smarter. It's an opportunity to fine-tune your campaigns based on what truly works, setting your business up for sustained success.
Frequently Asked Questions
What exactly is performance marketing?
Performance marketing is a digital advertising strategy where businesses only pay for specific, measurable actions or outcomes, such as clicks, sales, or sign-ups, rather than a flat fee for ad placement.
Is performance marketing a scam?
No, performance marketing itself is not a scam. It's a legitimate advertising approach focused on measurable results. However, like any industry, there can be fraudulent players or activities. It's vital for advertisers to use trusted agencies, platforms, and tools, and constantly monitor campaigns to ensure genuine results.
How does performance marketing differ from traditional advertising?
Traditional advertising often requires businesses to pay upfront or flat fees for ad placements, regardless of the outcome. In contrast, performance marketing charges based on specific results, like a sale, click, or form submission.
Can small businesses benefit from performance marketing?
Absolutely! In fact, performance marketing can be especially advantageous for small businesses because it allows them to invest their budget in campaigns that deliver measurable results, ensuring a more efficient use of their resources.
How do I get started with performance marketing?
Start by setting clear goals for your campaign. Choose the appropriate performance marketing model aligned with those goals. Monitor and adjust as needed, and consider partnering with trusted platforms or agencies for guidance.
Topics: Marketing Performance Marketing B2B Marketing Growth Hacking